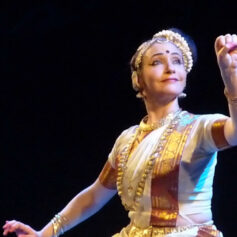 Distribution
Mohini Attam
Musicians are from Kerala, 4 to 5 people (1 Vocal, 2 percussionists: Mridangam and Edaykka, and one or two melodic instruments: violin or veena, or flute).
Performance can be eventually with 3 mains musicians only, specifically: vocal, mridangam and a melodic support instrument).  Possible performance with local musicians resident in France.
TOURNEE MOHINI ATTAM :
dance : Brigitte Chataignier
musiciens on tour (from india)
Chant : Madhavan Namputhiri
Violon : Viju S. Anand
Mridangam : Vypeen Satish
Edaykka : Tripunitura Krishnadas
distribution susceptible de modification.