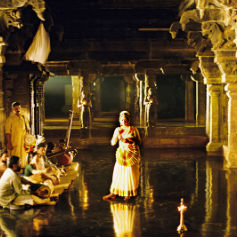 Présentation
La danse de l'enchanteresse
La Danse de l'Enchanteresse
Un film de Brigitte Chataignier et Adoor Gopalakrishnan
VOST. 72 mn
Produit par : La Vie est Belle 
Distribué par : Les Films du Paradoxe
Ce film nous entraîne dans l'univers raffiné du Mohini Attam, cette danse du Kerala, en Inde du Sud, pratiquée exclusivement par des femmes. Nous suivons plusieurs Maîtres livrant en alternance l'assise de leur art à leurs disciples, dans un échange profondément respectueux, mais aussi une jeune fille dont les sentiments se reflètent dans la traversée des danses, des chants et de la musique.
Ce qui compte derrière le particulier et la vie, c'est ce qui accède à l'universel et à l'art. Au-delà de l'homme, se cache le dieu ; en la femme, l'héroïne…
« Le film ravira les initiés », Télérama
« Une image contrastée, un film magnifique », Positif
« Splendide et délicat », l'Humanité
« Fascinant, un trip exotique et apaisant » Télécinobs
« Une pépite du cinéma d'auteur indien » Les Inrockuptibles
---
 The Dance of the Enchantress
Documentary (France)
Malayalam dialogue, Running time, 72 minutes.

Directed by Adoor Gopalakrishnan and Brigitte Chataignier
Produced by : La Vie est Belle 
Distributed by : Les Films du Paradoxe 
What the film attempts to do is to make the audience experience the very beauty of the dance of Mohiniyattam.
As the film unfolds, the audience gets to know the land and life of the people that gave birth to this very enchanting art ; the viewer also learns that this dance evolved through centuries into today's form and style acquiring a high degree of sophistication and verve along the way.
Unlike other traditional dance forms of India Mohiniyattam lays its emphasis on romance- the shades, colours and moods of love. Mohiniyattam is rich in its folk flavour and ease. While mudras – hand gestures- form an integral part of its expression along with music and body movement, it is limited to the simple, intelligible and beauteous ones.This makes it accessible even to the uninitiated and the casual viewer who is invariably carried away by the look and feel of the dance.
This dance, in its essence, is about feminity. The waiting woman, the woman in love, the woman reminiscing the romantic moments with her lover, the woman separated from her lover etc. Essentially, Mohiniyattam is a tribute to love, beauty, grace and feminity.